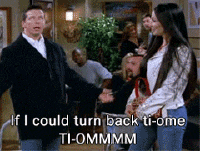 "I wish I could turn back the clock."
"I wish I could go back to high school."
"I wish I could talk to myself ten years ago."
I've heard some iteration of these questions many, MANY times.  I've been asked them.  I have pondered them.  I know for a fact that I wouldn't want to go back to high school.  It wasn't the best time of my life.  Far from it.  That time was awkward and full of times that, while they weren't damaging, weren't fun.  Sure, if I could go back and tell myself that everything would be okay, I would.
Everything will be fine.
Learn from this.
Hang on to those happy times.
The one thing that I would do, though, is go find myself as I'm teetering on the cusp of paganism, grab myself by the shoulders, and shake myself violently.
I would tell myself to listen to my gut.  The books aren't the end all, be all of how things work.  The elaborate rituals sound amazing and probably look amazing, but for the time being you're solitary.  Work with yourself.  Listen to the whispers.  If something seems right, do it.  Read mythology and pick up books on ancient practices when you find them.
Believe in the magic you weave.  It works!
Thinking back on it, I started everything at the age of 13.  That means I've been practicing paganism for nearly 20 years.  I have to tell myself that.  This isn't a phase.  This isn't some passing fancy.
I am pagan.
I am a heathen.
I wish I had found blogs, websites, forum posts on paganism on a budget at an earlier date.  It would help me with the idea that the books aren't the only way.
I have a box full of books on Wicca.  It was the path I started on.  I bought books when I could.  Bought the ones that jumped out at me.  A few with pretty covers.  Some that worked with dragons.  There was so much stuff.  So many guidelines and things that I had to remember.  I was a theater kid.  I should have been able to remember how to call the quarters.
None of the books mentioned going with your gut feeling.  Listening to your inner voice.
Do these sorts of spells when the moon is in this phase.  Use these herbs.  Use ONLY these colors.  Black is the color of negativity. Evil. VOID.
There is white magic and black magic.  Don't do black magic.  There is grey magic, because some times you need to hex a bitch.  No one warned me that I should be careful with voodoo.  The local library and book store only carried books on voodoo that dealt more with the anthropological side.
Don't forget the rule of three.  Or is it nine?  Don't forget the Wiccan Rede.
I don't know when it was that I shrugged off that oppressive feeling of so many rules.  When I got back to the root of it all.  I know it was after I began my relationship with Grendal.  After I found out his family was perfectly fine with paganism.  They read tarot cards, talk with spirits, and believe in faeries.  He sees things, speaks with them.
We've come together in our different practices, Grendal and I.  We talk about these feelings we have.  He encourages that I follow them.  He is also the voice of reason and has stopped me from cursing people in the heat of the moment.
I use magic as I cook, as I work.  I talk to the spirits in the garden, using three lawn trolls as physical representations.  I talk to crows and squirrels when I can.
I wish I could have done this earlier.  Embraced the fluidity and organic nature of what paganism should be.  You shouldn't HAVE to buy all the things.  Those items aren't needed.  They're extensions of yourself, used to focus and pour yourself into.  It is nice to have but not necessary.
Things have change so much for me.  After 20 years it feels like I have finally become the witch I was suppose to become.